Home >> News >>
Industry News
Industry News
---
Delay in gate in process
August 1st 2018 , Navi Mumbai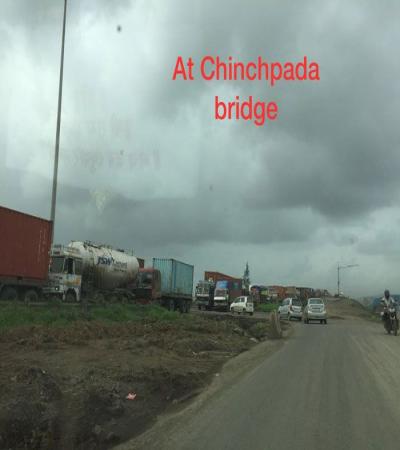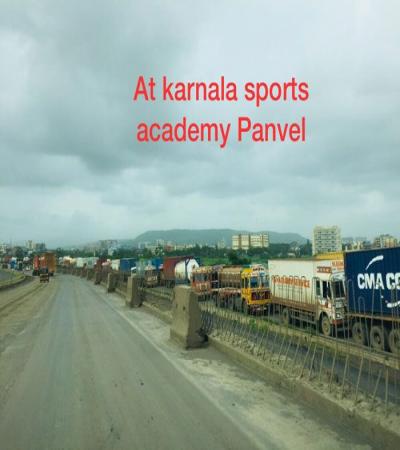 Heavy traffic approaching towards Nhava Sheva.

It May reached up to kalamboli circle.

Hence it may delay in gate in process , so plan shipments to avoid shut outs.

Regards,
VDSPL Team
---
Client Advisory - JEBEL ALI BAD WEATHER - DELAY IN OPERATION
February 9th 2018 , JEBEL ALI
Dear All,

Kindly note that due to prevailing bad weather in the region all shipping lines vessels are getting affected in terms of berthing and cargo operation in the surrounding regional ports, specially all the feeder vessels berthing/Operation is delayed at JEBEL ALI due to Thick Fog & Zero Visibility.

Due to these delays, T/S connections are affected up to certain extent and shipping lines are trying utmost by coordinating with the ports to mitigate the delays/connection of their T/S cargo.

This situation is beyond our control and request you to understand and support in this regard.

Kindly find below Weather Forecast.

WARNING : Fresh winds and moderate sea/swell developing later.

SYNOPTIC SITUATION : Low pressure over Gulf of Oman and southeast Iraq. Ridge of high pressure extends from eastern Turkey towards northern Saudi Arabia and thence towards southern Yemen. Strong high over northern Iran. Low pressure will occur over northern part of southern Gulf waters, Strait of Hormuz and Gulf of Oman today. High pressure will build over northern Saudi Arabia. NW winds will set in over most parts of Gulf waters with increase in waves. Conditions will ease on Friday, as low pressure shifts east towards Pakistan coast and high pressure extends over Gulf waters. A low pressure area from eastern Mediterranean Sea will approach Iraq in the coming days.

THURSDAY FEBRUARY 08
Local Weather Thursday 00:00 to Friday 00:00
Wind (Kt) : W-SW 10-15, increasing W-NW 13-20 later
Sea/Swell (Ft) : 1-3, increasing 3-5 by Friday morning
Visibility (nm) : 3-5
Weather : Dry
Max Temp (oC) : 21
Sunrise/Sunset : 0702 / 1811

FRIDAY FEBRUARY 09
Local Weather Friday 00:00 to Saturday 00:00
Wind (Kt) : W-SW 13-20, decreasing W-NW 11-15 later
Sea/Swell (Ft) : 3-5, decreasing 2-4 by Saturday morning
Visibility (nm) : 3-5
Weather : Dry
Max Temp (oC) : 21
Sunrise/Sunset : 0702 / 1812

SATURDAY FEBRUARY 10
Local Weather Saturday 00:00 to Sunday 00:00
Wind (Kt) : W-SW 11-15, decreasing W-NW 7-10 for a time
Sea/Swell (Ft) : 2-4, decreasing 1-3
Visibility (nm) : 3-5
Weather : Dry
Max Temp (oC) : 21
Sunrise/Sunset : 0701 / 1813

Regards,

VDSPL Team
---
Trade Advisory - Restrictions on movement of Heavy Vehicles-Reg
September 11th 2017 , Gujrat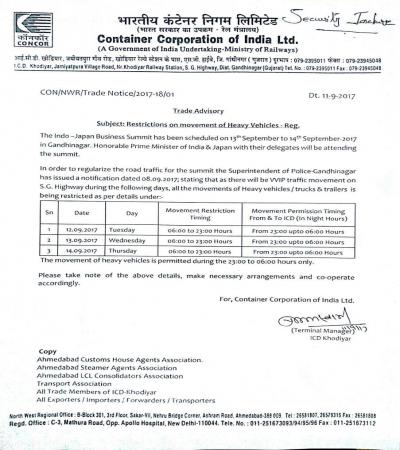 ---
Fire in the jnp port RTGC
September 8th 2017 , Navi Mumbai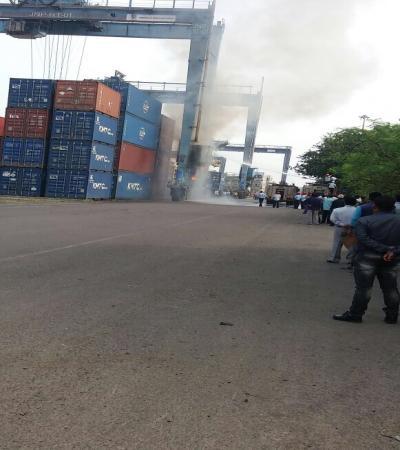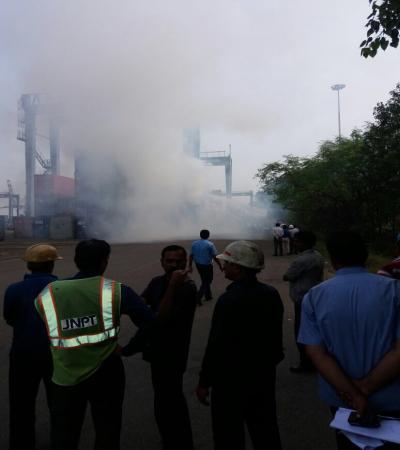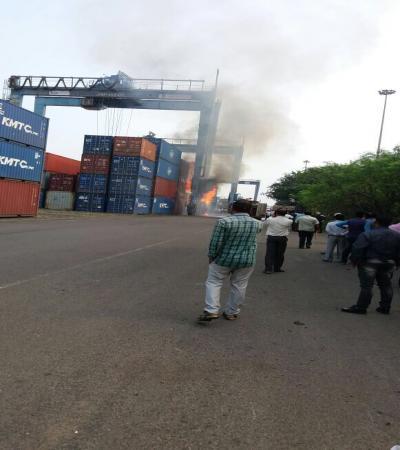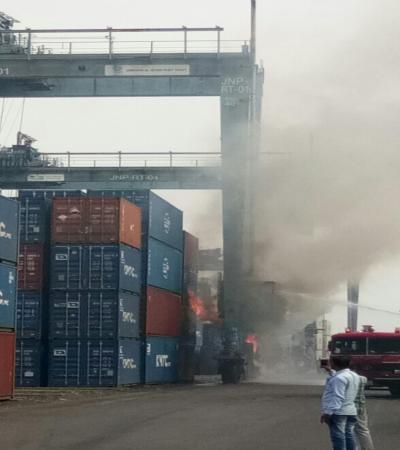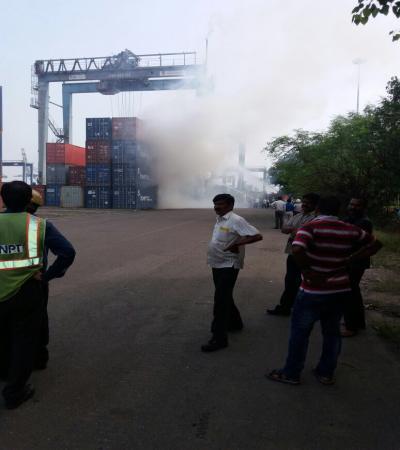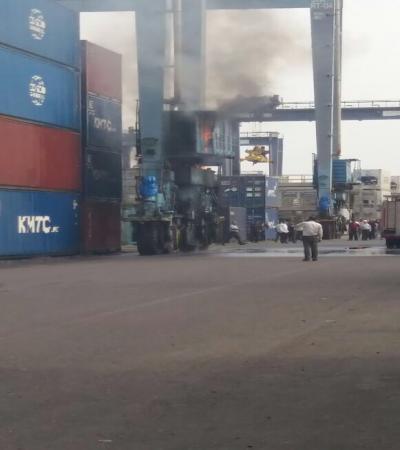 ---
In Visakhapatnam port one of the foreign cargo ship sinked at Berth
September 6th 2017 , Vizag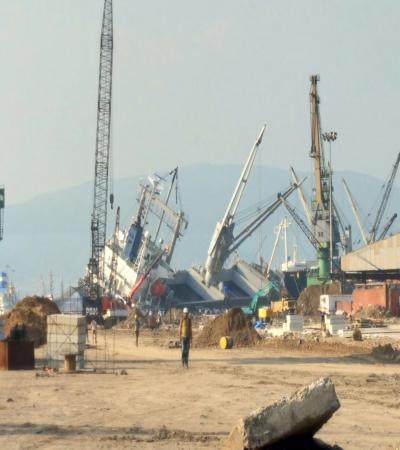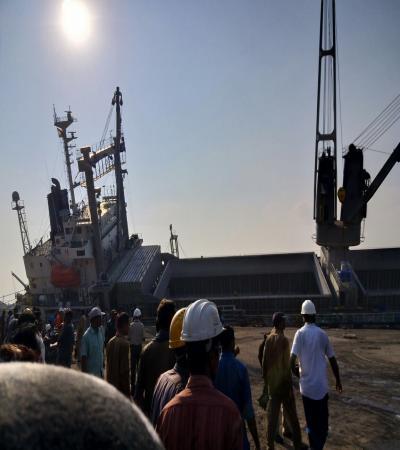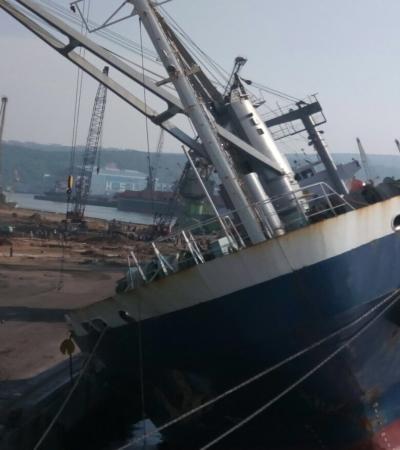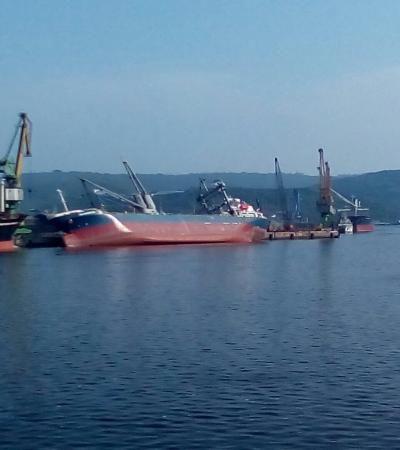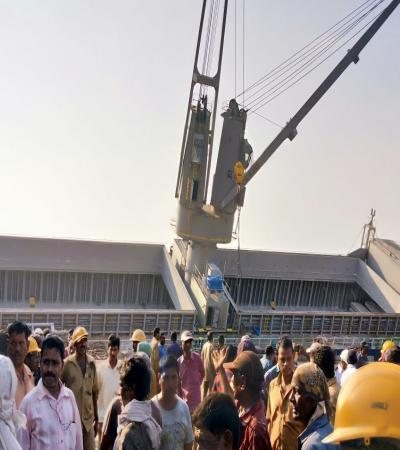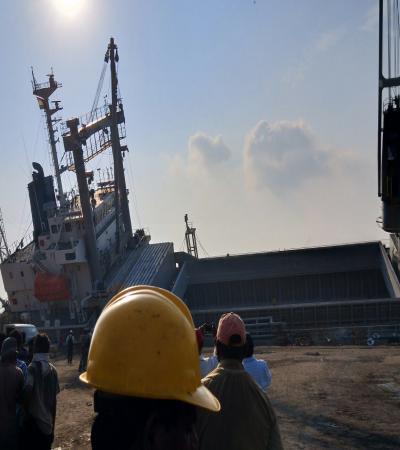 A Vietnamese vessel, MV Hai Duong 09, tilted to one side at the EQ berth number 5 in Visakhapatnam Port Trust (VPT) in Vizag city at around 3.30 pm on Wednesday while iron billets were being loaded on to it.
---
G20 Summit on 7th and 8th July in Hamburg
June 29th 2017
Dear Partners,

As you may have learned from the press, the G20 summit will take place in Hamburg on July 7th and 8th 2017. This event requires special security measures for the 35 delegations by the Hamburg police. Therefore, streets and junctions within the airport area and city centre will be closed. This will lead to considerable obstructions in road and rail transport.

Furthermore, due to public assemblies also heavy traffic obstructions like closing one side of streets and/or traffic restrictions within the port are Veddeler Damm, Kohlbrandbrucke and Finkenwerder strabe (Please refer to attached traffic report of the Hamburg police) are to be expected.

Because of the mentioned traffic problems within the whole Hamburg City and port are considerable delays during loading and unloading as well as during transports by truck might be possible. We would like to ask you to take this into account when placing you order.
---
JNPT becomes First Major port to equip Radiological Detection System at all Gates
February 2nd 2017 , Navi Mumbai
Jawaharlal Nehru Port Trust (JNPT), India's No1 Container Port that handles more than 55% of total container traffic of all major ports, has advanced to become the first Major port to equip Radiological Detection System at all its Port gates – North, Central & South- in order to detect presence of any special nuclear material in containers passing through these gates. This system has been placed in view of detecting radiological elements in the containers passing through roads & rail gates. Installation of such devices in main areas would give an added lease of life to the major importers in the region of Aurangabad, Jalna, Wardha and others who import huge volume of scraps and raw metals to make finished goods.

With this installation, JNPT has successfully complied with the directives of the Govt of India to enable Radioactive Detection System for Port Security and has fully equipped itself to handle 100% secure in handling radioactive materials in all kinds of cargo, as per the international safety standards.

A total of 28 Vehicle Monitoring System (VMS) has been installed at various locations, from where import containers are entering, for the purpose of radiological detection in the containers carrying various unshredded scraps and metallic waste. With the help of VMS, containers can detect the presence of radiological materials through specialized detecting characteristics in the system. In addition to this, JNPT has also installed 2 LIMB monitors for pedestrian traffic. Additionally, the system uses Portable Gazettes and monitors for detecting/identifying the radioactive source.

Shri Anil Diggikar, Chairman, JNPT, said, "This step towards National security has always been our priority in enabling right technology at right place to establish not only a safe and secure ecosystem but also to provide modern services to EXIM trade."

These hi-tech detection devices will provide a passive, non-intrusive means to screen containers and pedestrians for the presence of nuclear and radioactive materials. These equipment alert security personnel by means of audio/visual alarms locally and remotely. These equipments are connected to centrally located control room to monitor and maintain the history of the events. Electronics Corporation of India Limited (ECIL) has made these equipments and handed over to JNPT for further installation to fulfill Port security and has already trained the CISF persons on this equipment and provided the operating procedures for the same to stabilize this process.
---